For many people, a home is a place of calm and comfort, a place to escape the noise of a busy world. It is a place where you can be yourself and express yourself freely. With that said, making your home a reflection of your inner self can help bring that feeling of comfort. Creating a unique environment for yourself and your family is an important thing to consider, especially in modern times when many people find themselves spending more and more time at home.
Creating the Perfect Environment With Paint
When it comes to deciding on colour schemes for the home, there are several things to think about to get the perfect combination and get the most out of your living space. The first thing to consider is the furniture that permanently resides in the room. Picking a wall colour that will clash with your furnishings may not bring the desired effect and could leave you loathing the space. Picking colours that go with the furniture you already have will create contrasts in the room and allow the colours to complement one another.
To decide on the colours you like, perhaps consider what colours you like to wear when going out and about. You might discover that you have a love for a particular colour that you hadn't noticed before. The next thing to consider is your favourite places to spend recreational time. You might be a person who loves taking day trips to the beach; if so, you might find you would like your space to reflect the beach and choose ocean blue colours. Or perhaps you are the adventurous type and prefer the calm of the great outdoors and might like to decorate in luscious natural greens.
Another thing to consider is the undertones in the colours you select. Understanding undertones is essential when choosing a colour palette. By recognising the undertones in the paint and knowing how it affects the overall hue, you will get a better understanding of how it will appear in your home. You can do this by taking samples of the colour first and then testing them out to see how they look in your living space before fully committing to them. Sampling a selection of colour tones rather than picking the first one you see will benefit you and ensure you get the colours just right.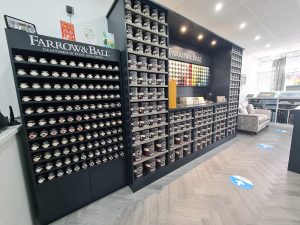 Choosing the Right Paint – Farrow & Ball
The extraordinary thing about Farrow & Ball paints is how the pigmented colours respond to natural light as the day progresses. The paint brings a new level of dimension to your home in all lighting conditions and means that, like in nature, the tones give off different effects as the lighting conditions change throughout the day. By choosing a Farrow & Ball paint, you can bring this uniqueness into your home and create a vibrant atmosphere for your entire family.
Farrow & Ball offers a wide range of timeless colours in their range that will help to transform every room in the house. With a quality finish every time, you can create a unique, professional feel in every room with ease. Farrow & Ball paint is also water-based and has a low odour making it a great environmentally friendly choice to decorate your home.
For 132 colour choices of luxurious paint that are designed to last, get in touch with Aquarius Interiors to explore our range of Farrow & Ball. Our friendly team is on hand to offer any interior design advice, including guidance on which colour of Farrow & Ball's paint is right for your home.