At Aquarius Interiors, we offer a range of exclusive, high-quality awning designs. Awnings are perfect for summer days sat out in your garden or on your patio. Retractable awnings are a practical and elegant addition to your garden and home. 
With the right high-quality awning materials, you can protect yourself against rain or shine. An awning can help you to relax in your garden without getting sunburnt. As well tend your garden when it's raining without getting soaked through. Awnings will also shelter any of your outdoor furniture from rain or overheating in the sun.
Patio Awnings & Door Canopies 
Putting the finishing touches to your garden space is difficult. One of the ways to transform your outdoor space is with an awning or canopy. A high-quality awning will also add value to any home. This is because they are an in-demand exterior design fixture.
Awnings used to be about the functionality and practical benefits they offer. At Aquarius Interiors, we offer awnings that are stylish, not only useful. The unique designs are multipurpose and suit a variety of areas. They're ideal for your home's patio doors, ceiling to floor windows, and as a fixture on its own.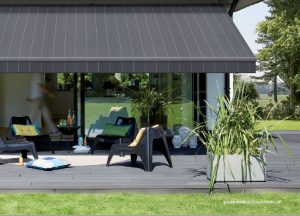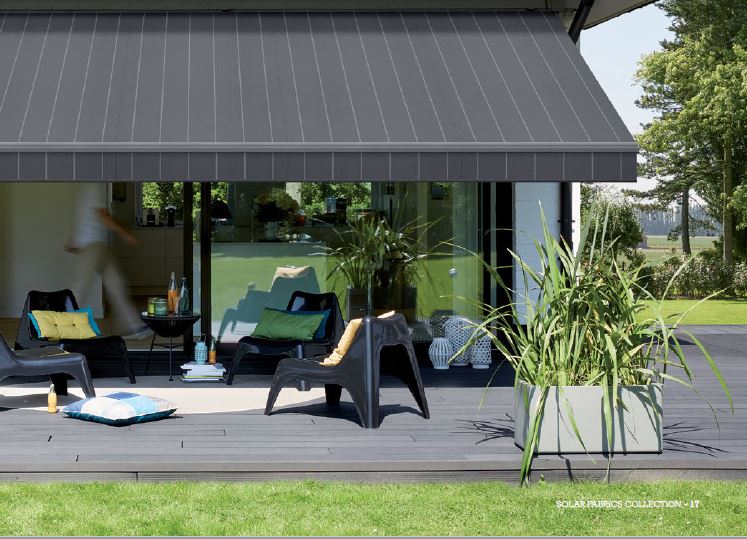 A pull out awning for a house can transform the exterior design of any home. They are similar to canopies for patios. Canopies are typically are larger in both length and width than awnings. They will also come as freestanding, rather than as an attachment on the outside of your house. There are a wide variety of both awnings and canopies available. Let's explore some of the high-quality options we offer:
Manual Awnings
This is the type of awning you're most familiar with. They're also one of the most easy-to-use and convenient awnings available. Manual awnings allow you complete control over how you retract and put away your awning covers. This means you will avoid any damage occurring to both your awning and outdoor furniture from extreme weather conditions.
Automated Awnings
Automated awnings are sometimes known as electric awnings or motorised awnings. They allow you to chill out and extend or retract your awnings without getting out of your seat. This is why they offer a lot of conveniences.
Why Choose Aquarius Interiors Awnings?
At Aquarius Interiors, we pride ourselves on providing a range of awning designs and styles. Our team of expert designers focus on watching the latest trends in colours and fabrics. In both graphic interior and exterior design.
When it comes to awnings and canopies, one of the most important things is the fabric. As a company, we only use the best, high-quality fabrics for all our awnings. This is why our awnings and canopies will protect you from the sun and the rain.
It's not only practical benefits that high-quality fabrics provide. For awnings and canopies, the right fabric allows you to bring out more vibrant colours and designs. Often, with low-quality options, the colour of the fabric will fade over time. This is because of the loss of colour sunlight can cause certain fabrics. However, our awnings will keep their style and colour for years to come.
If you can't miss out on transforming your garden, get in touch with our friendly and expert team today:
Contact Us Today
For a FREE measure and quotation give us a call on +44 (0) 24 7771 7517 or please feel free to fill in the enquiry form on our contact page today.