Curtains & Blinds in Warwick
At Aquarius Interiors, we offer a wide range of high-quality blinds and curtains in Warwick. We're an independent family-run business that focuses on supplying the very best curtains and blinds in Warwick. This includes ready-made curtains and made to measure curtains. As well as a variety of blinds including bespoke blinds in Warwick. We provide great choices for both domestic and commercial properties and businesses. Our team are proud to serve people across Warwick, Coventry, and Warwickshire. We're also happy to travel across the country to help people transform their properties.
Many people across Warwick enjoy our exclusive curtain and blind designs. Warwick is the county town of Warwickshire and has an incredible history. Warwick is one of the most beautiful towns in Britain. The town is known for the breath-taking Warwick Castle, that was founded by William the Conqueror. It's a place with plenty of amazing architecture to take in. Including the timber-framed 14th century buildings of Lord Leycester.
If you live in Warwick or anywhere across Warwickshire, our team are here to help you find the dream curtains for you and your property. Here is how:
Made to Measure Curtains in Warwick
Our made to measure curtains in Warwick add a luxury that can transform any property's interior design. Our expert team of curtain designers can produce exclusive bespoke curtains in Warwick. We use a range of incredible fabrics. They provide unique styles and practical benefits for any home.
At Aquarius Interiors, we offer a range of curtains ideal for your home. Our domestic curtains can transform the look of any room. They also have a dynamic variety of functions. This means our curtains are both practical and stylish.
Let's explore our range of high-quality curtains in Warwick:
Blackout Curtains in Warwick
One of the ways our curtains are practical is by blocking out light and heat. Our blackout curtains are perfect to install in your bedroom. They will stop you waking up before your alarm by blocking out the sunrise, allowing you to get the right amount of sleep for you. In the summer, blackout curtains will also prevent your bedroom from overheating. This means you will remain comfortable and rested.
Blackout curtains are available in a range of styles and designs. They're built using several layers of tightly-woven fabric. This is what gives them the practical benefits of keeping out heat and light, as well as retaining warmth during the cold winter months. Another benefit of blackout curtain is they can soundproof any room. This makes them ideal as bedroom curtains as they block any noise out of your home.
Eyelet Curtains in Warwick
Eyelet curtains are an exciting and popular modern design. They offer a unique aspect to anyone's interior design. The eyelet curtain design involves the curtain rings being sewn into the material. This way the curtain rail will run through the top of the curtain fabric, through the eyelets.
The reason these curtains offer such a dynamic design is the deep folds in the fabric. They're the perfect fit for solid colours and bold patterns. Eyelet curtains can transform the look of a living room or bedroom. They're ideal for anyone who loves bold, contemporary designs.
Bespoke Blinds in Warwick
At Aquarius Interiors, we offer a range of made to measure blinds and ready to go blinds in Warwick. Blinds are useful for practical reasons in both residential and commercial buildings. But, they also offer brilliant interior design choices. There is a range of blind designs on offer. Let's explore our range of high-quality blinds in Warwick:
Roman Blinds in Warwick
Roman blinds are a unique and stylish design choice. Unlike other blind choices, roman blinds are usually made from fabric, not wooden materials. Roman blinds will fold into themselves when it's raised. They're also highly adaptable and can be made with extra features, such as thermal and blackout lining.
Like roller blinds, roman blinds are ideal for people who enjoy minimalist interior design. This is why they're ideal as kitchen blinds or bathroom blinds. Both for businesses and homes. At Aquarius Interiors, we also provide roman blinds in Warwick with subtle designs you can pair with curtains to create a stunning design.

Venetian Blinds in Warwick
Venetian blinds are one of the most popular choices of blinds out there. Venetian blinds use horizontal slats attached to either string or strips of fabric. They allow you to have complete control over the amount of light you let into the room. All you have to do is rotate the slats using an easy to handle cord.
We have a variety of designs of venetian blinds in Warwick. They're typically made from wooden materials; Venetian blinds are the ideal wooden blinds. You have your choice of a wide range of colours and finishes with Venetian blinds.
Vertical Blinds in Warwick
Vertical blinds are contemporary, modern, and sleek design choice. They're similar to Venetian blinds as they both use individual slats that operate on a track. Vertical blinds are adaptable and offer a range of different styles. They will open from side to side or part in the middle of the window. Our vertical blinds in Warwick are perfect to pair with floor to ceiling windows as well as patio doors.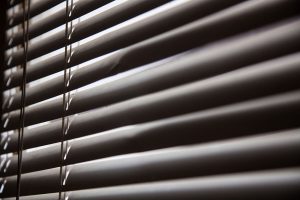 Farrow & Ball Warwick
Select only the highest-quality paint in colours that complement your home with our selection of Farrow and Ball in Warwick. Farrow & Ball only uses high-quality materials to make excellent colour, ensuring that it can maintain its quality for years to come. The paint uses rich pigments that respond with light during the day to create a vivid style and atmosphere in whatever space you're decorating, whether it's the walls or the ceilings. Our selection of Farrow and Ball in Warwick is always the right choice.
Farrow & Ball paint is the best choice because it is special to you. It complements your ideal look, regardless of your home's current style. Farrow & Ball paint will completely change the look of your home, and with the aid of our interior design experts, you can transform your home.
Why Choose Farrow & Ball in Warwick?
All our Farrow and Ball paints in Warwick are Eco-friendly, durable and washable, as well as a vast selection of colours all with convenient and easy application.
For 132 colour choices of luxurious paint that are designed to last, get in touch with Aquarius Interiors to explore our range of Farrow & Ball in Warwick. Our friendly team is on hand to offer any interior design advice, including guidance on which colour of Farrow & Ball's paint is right for your home.
Contact Us Today
Give us a call on +44 (0) 1926 359096 or please feel free to fill in the enquiry form on our contact page today.
With over 20 years of experience in this constantly changing industry, Warren and his team are here to fulfill your every requirement. We offer a free home advice service which we'll then use to support a full supply and install – each project is personally managed from start to finish so that you can rest assured that the right finish is achieved every time. Whether it's a pair of curtains for your lounge, a blind for your bathroom or a full refurbishment onboard a cruise liner, look no further than Aquarius interiors. Click here to contact us or fill in the form below and we'll happily call you back.
I thank you for your help and the professional approach that you brought to this project, I would certainly consider calling at your door again.

Andrée d'Ambrumenil
I would recommend Warren. His curtains, blind and fitting were 1st class and he gave a very professional and friendly service.

Mrs Wildsmith – Kenilworth
Recently had my curtains installed by Warren at Aquarius Interiors, the transformation was amazing, the quality of the curtains and the roman blind was superb and the service was fantastic.

Steve Wright, Nuneaton