Electric blinds are relatively new entry to the blind market. They are great for those who might have difficulty opening and closing blinds, but they also have a whole host of other benefits. They offer a whole range of features to make your life easier. They might not have been on your radar when looking for new blinds, but we think you should consider this modern and convenient solution for your home or office.
How do electric blinds work?
Simply put, electric blinds work by using a small motor to turn a blind shaft to either raise or lower the blinds. This can all be done at the touch of a button, either on the wall, your phone, or a remote (but more on that later!).
That's all there is to it really. The motors are efficient and quiet, so won't make an annoying noise when you lower or raise the blind.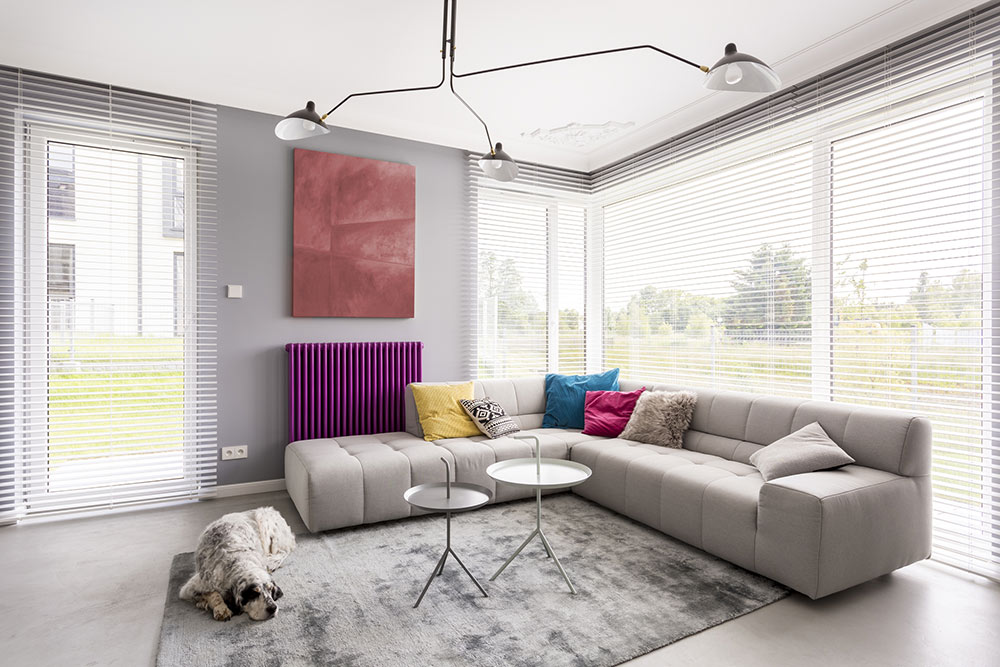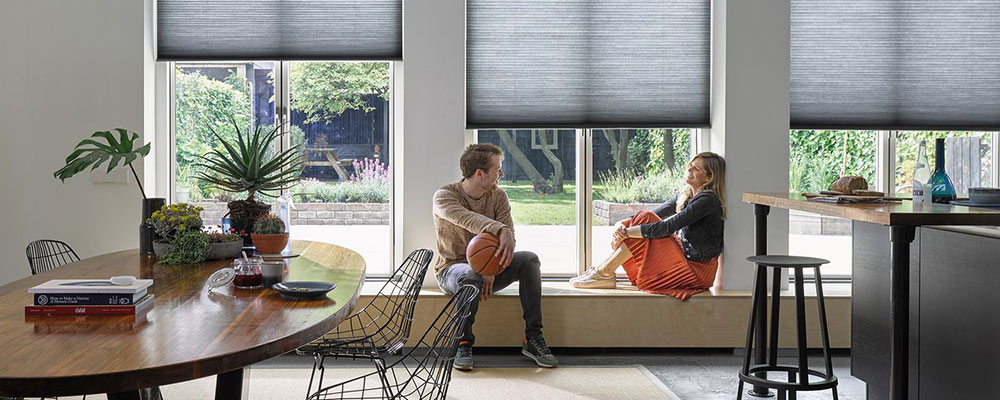 Artwork supplied by Luxaflex
Hardwired or battery powered?
With electric blinds you can choose to either have them connected to the mains or battery powered. Each option has its own pros and cons. Battery powered blinds don't have any wires to hide or install, and are far easier for hard to reach windows that don't need a power socket. They're also very energy efficient so take very little power to operate meaning you won't be changing the batteries every few weeks. They also have the benefit of being far easier to install.
However, battery powered blinds do have their shortcomings. Firstly, you will have to replace the batteries at some point, normally every few years. Also, if you have multiple blinds side-by-side, the rise and fall of the blinds may not be in time. Finally, battery powered blinds aren't suitable for large blinds because they take a lot of power to operate.
How about mains powered, or hardwired, blinds? Well, they're great for large blinds, enable blinds to rise and fall in sync and will never run out. So, they're essentially good for whenever a battery-operated blind isn't an option. They're also energy efficient too, only drawing a small amount of power.
But now for the downsides. Hardwired blinds are far more difficult to install. They require more planning and the installation of a 5 amp fused spur close to where the blind will hang. If a suitable socket isn't available, you'll have to get one installed by a qualified electrician. Once that's done, the wires also need to be hidden so everything looks tidy. All of this means that hardwired blinds can be more expensive.
How can they transform your room?
So now you know the pros and cons of hardwired and battery-operated blinds, why should you invest in them? Well, the answer is that they offer a range of unique features.
The first of these features is that you can set a timer, so your blinds open at a certain time in the morning, meaning you can wake up naturally with the sunlight.
Aside from helping you wake up naturally, electric roller blinds can also help you fall asleep too. You can get blackout variants which will fit your windows perfectly and block out any light from outside. This is perfect for if you live in a city or far north where the sun sets late in the summer.
Aside from these practical features, electric blinds also bring with them aesthetic benefits. If you're going for a modern design, electric blinds really are the answer. Not only are they futuristic in the way they can raise and lower themselves, they also come in a range of sleek and contemporary designs to suit the look you're going for.
But finally, they let you raise and lower your blinds from your bed. Who doesn't want that on cold winter nights when you're warm and comfortable under the covers?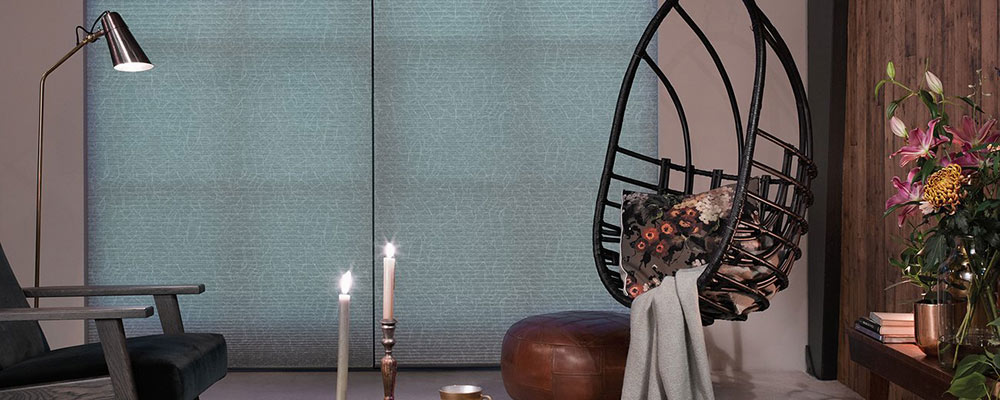 Artwork supplied by Luxaflex
Got a question? Get in contact
If you have a query or would like a quote fill in the form below
Wall mount, remote control, or smartphone controlled?
The final choice you have to make when deciding on electric blinds is how you'd like to control them. You've got three options: wall mounted, remote controlled, or smartphone controlled. The benefits of having your blinds remote controlled or controlled via a smartphone are obvious: you can control your blinds wherever you are in the house.
Wall mounted controls can have their benefits too, often offering a far more complex array of controls. Some allow you to automate the blinds all over your home, and others work in tandem with smartphone apps and remotes, giving you the best of both worlds!
I thank you for your help and the professional approach that you brought to this project, I would certainly consider calling at your door again.

Andrée d'Ambrumenil
I would recommend Warren. His curtains, blind and fitting were 1st class and he gave a very professional and friendly service.

Mrs Wildsmith – Kenilworth
Recently had my curtains installed by Warren at Aquarius Interiors, the transformation was amazing, the quality of the curtains and the roman blind was superb and the service was fantastic.

Steve Wright, Nuneaton