The benefits of an awning are often overlooked when it comes to top summer accessories for the home and garden. People tend to choose temporary solutions like soft gazebos that will usually only last one season before they are thrown in the tip. Awnings are excellent for the home in the summer as they offer premium protection from all kinds of weather conditions. They can also be utilised all year-round and are incredibly hard wearing. This blog will explore why investing in domestic awning is very beneficial for your home.
Benefits Of An Awning
Provides Shade
A professionally-fit domestic awning is the solution if you require extra light and sun protection in your garden. They are, in some ways, like an extension to your living space and add an extended feel to your home. They will keep your family and friends protected from harmful UV rays in the summer and also go a long way to keeping any outdoor furniture that you have safe from sun or rain damage.
Allows You To Keep Outdoor Furnishings Out All Year Round
An awning means that you don't necessarily have to bring outdoor furnishings indoors in the colder months. With an awning, they can be placed directly under it in the winter months, meaning you do not have to use pricey storage units to store your summer furnishings.
Add Aesthetic Value To Your Home
Awnings also add terrific aesthetic value to your home and outside spaces. With many different styles and colours patterns to choose from, they are a versatile option for adding an aesthetic focal point to your garden.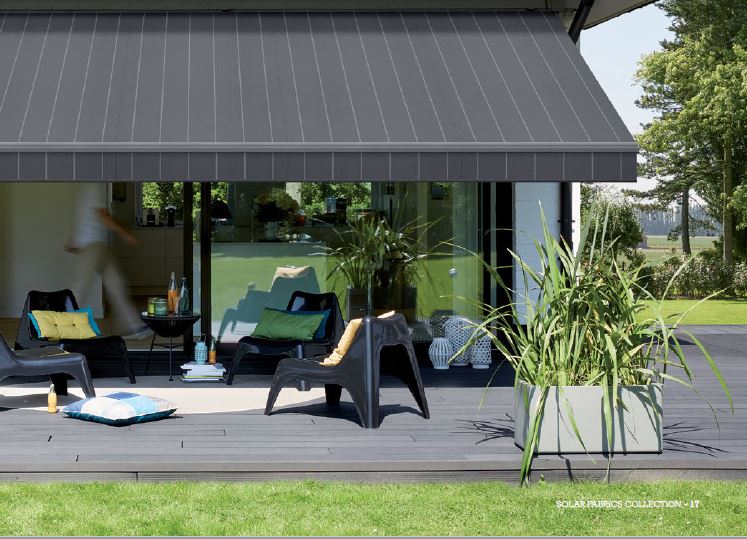 More Cost Efficient Than An Extension
Garden awnings are much more cost-efficient than investing in home extensions. Though awnings differ slightly, they are a great alternative to extensions because they are much more budget-friendly and can add a similar sense of space to your home.
Adds Privacy To Your Garden
Awnings also offer your garden more privacy. If you have neighbours that can see into your garden, an awning will help to cut off a section of your garden from view, offering you more sense of privacy from your nosy neighbours.
Reduce Energy Costs
Domestic awnings also go some way to helping you reduce your energy costs. By helping to shield your property against strong ultraviolet rays, you can reduce solar heat gain within your home. In the long-term, this could help the awning eventually pay for itself with the savings you will make in energy costs.
Easy To Install & Maintain
Awnings and canopies are easy to install and maintain and remain in place all year round. Having a permanent canopy will save you time when compared to erecting temporary sun shades such as soft gazebos. With a professional fitting service, an expert can ensure that your awning or canopy is fitted correctly to industry standards, so you have guaranteed peace of mind in the future. If your awning has moving parts, then getting them serviced each season will ensure that it can be enjoyed all year round whenever you need it without any interruptions.
Hopefully, this blog has highlighted some of the great benefits an awning can provide for your home and garden. A professional installer will advise you further on the steps to take when considering your new awning.
Give us a call on +44 (0) 24 7771 7517 or please feel free to fill in the enquiry form on our contact page today.