When it comes to selecting blinds for your home, many factors should be taken into consideration so that your chosen product fits you and your house aesthetically, practically, and economically. It can be difficult to know what aspects to look for, especially if you're not sure what specific purpose you want them to serve, but there are blinds to suit everyone's style preferences and requirements. So, where do you start?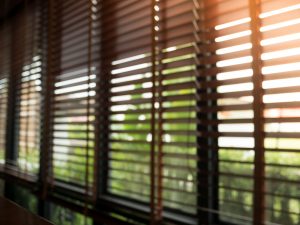 Choosing The Perfect Blinds For Your Home, Where Do I Start? 
Before you even begin to shop for blinds, you need to measure the window space accurately. If your window has a recess, measure the width of the window at 3 separate points. For consistency, measure at either end and in the middle and take the smallest measurement as your width guide. 
If you plan on having Venetian, roller, or Roman blinds, reduce this measurement by a further 1cm to allow for a smoother extension. Use the same approach to measure the length and, again, note the narrowest point. If you have your heart set on vertical blinds, make sure to reduce the length by 1cm to prevent the fabric from catching on the windowsill. 
If you don't have a recess, measure the window width, adding 10cm to the total to allow a 5cm overlap on each side to block light out effectively. Again, if you know you're opting for roller blinds, add a further 5cm to allow room for the operating mechanism. From there, measure the window's length from the top of the fitting to where you want the bottom of the blinds to finish.
How Do I Know What I Need?
The most important feature to factor in needs to be functionality. The three major elements to bear in mind when choosing blinds are light, heat and privacy. Do you want to block out light? Do you want to manage heat? Do you need more privacy?
The size of your window and how much light you want to let in will determine the styles of blinds that will do this job more efficiently for you. For example, Venetian blinds offer flexible light and privacy control while being lightweight and durable, making them a popular option for all rooms. If you want to keep your room fairly bright, vertical blinds create a well-lit room while still promising a level of privacy. Roller blinds are one of the most popular types due to their versatility. They are available in different designs, colours and fabrics, as well as in blackout materials. In addition to that, they can be customised into electric blinds too.
If you're looking to add a touch of luxury to your interior design, roman blinds do just that. You can choose from an array of linings and they suit most rooms, however, they are not recommended for kitchens and bathrooms as the materials are not usually moisture resistant. With precise measurements and an idea of what you hope to achieve when your blinds are installed, there are countless options out there, from traditional and modern to affordable and indulgent.
Discover made to measure blinds created specifically for your home, get in touch with Aquarius Interiors today. Explore our wide range of blinds on our website to see which type of blind is right for you. If you want advice on what blinds are best for your home, call us on 01926 359096 or visit our showroom.