Roller blinds are a popular choice for many rooms in the house. They are a stylish way to control the amount of light coming through your window as they can be easily adjusted to let more or less sunlight in. Roller blinds are also a cost-effective choice for your window coverings, and they can be made from many different types of materials including wood, plastic, or metal. But when it comes time to clean blinds, there are some important things that everyone needs to know.
Best Ways To Clean Roller Blinds
Roller blinds, like any other type of window covering, need to be cleaned regularly for them to function at their best and keep looking good. As roller blinds have multiple parts, a considerable amount of dirt, grime, dust, and bugs get caught in them. This can eventually cause the material to break down faster than it would if regularly maintained. That's why it's important that you clean your roller blinds regularly and with care so that they last longer.
It's recommended you clean roller blinds properly at least once a month or more often depending on the frequency of use. This will help avoid other potential problems such as mould and dust build-up which could cause allergies and breathing difficulties.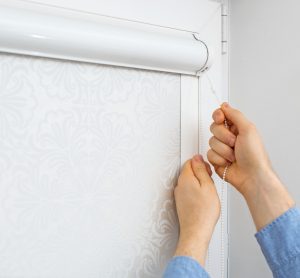 Dry Cleaning
This is the most common method of cleaning for roller blinds, as it can be done quickly and with little mess or effort required on your part. You can dry clean your curtain by:
Dusting: To do this, all that's required is a duster, paper towels, or sheets made from microfiber cloths. Simply dust the roller blinds and wipe up any debris and build-up of dirt.

Vacuuming: If you own a vacuum cleaner, it can be used to clean your roller blinds. This is more effective than dusting, particularly when it comes to fabric roller blinds. Make sure to use an

upholstery brush attachment to clean the roller blind's fabric if you have one.
Wet Cleaning
Cleaning blinds with this process requires more time and effort but can be very effective in situations where there are stains or build-ups of dirt.
Regular wet clean: All this requires is a few minutes of your time and a combination of soap and warm water. Spray the surface with the mixture and use a cloth or sponge to wipe it. You can then rinse your roller blinds with cool water and let them air-dry.

Stain Removal: If your roller blinds get stained, you can spray the affected area with an adequate stain remover and scrub it with a soft bristle brush. Make sure you brush in the direction of the

fabric weaves to avoid causing damage. You can

then rinse off any residue with cold water and allow your roller blinds to air-dry completely.
If you would like to find out more about roller blinds or would like to buy roller blinds for your home, then get in contact with us at Aquarius Interiors, your local blinds specialist, and see how we can help you get the right curtains or blinds for your home. Get in contact with us today or visit one of our showrooms.