A Venetian blind is a horizontal flat slatted blind that is used to control the amount of light entering a room. The Venetian blind is an effective way in which people can limit the amount of sunlight that enters a specific room, through the angles of the slats. Although there may be different styles and patterns of Venetian blinds available, the process of cleaning Venetian blinds is the same.
The vast majority of people concur that blinds are essential to the home and help to create an extraordinary window covering that can be used in the home as well as in offices. however, venetian blinds seem to be harder to maintain compared to other types of blinds such as roller blinds.
On a survey, most of the people say that it is a challenging task to clean Venetian Blinds as within a few days they require cleaning again. Typically, more people find cleaning Venetian blinds in their homes more difficult than other features such as curtains or carpets. The design of the Venetian blinds can also make regular cleaning difficult too.
Tips For Cleaning Venetian Blinds
Light Cleaning
Cleaning your blinds may seem like a boring and tedious task, but you have to make sure that you regularly do a light cleaning of the blinds. This type of cleaning saves you time as well as your energy. If you want to get rid of the dust as much as possible, you should use a cloth or feather duster to clean the dust out from your Venetian Blinds. You can also use some specially made blind cleaners such as a Lakeland brush to clean it. If you noticed that your blinds are stained you can apply a natural remedy for this to remove the stains before properly cleaning. The natural remedy for this is as follows.
First take a bowl and do the following;
Mix 50/50 vinegar and water in the bowl.

Take an old sock.

Dip the sock into the mixture.

Press and rub it onto the stains of the blinds.
Warring: You should keep it in mind that do not use a strong liquid cleaner on wooden blinds as it can break down the blinds. Read the manufacturers' cleaning guide before you start.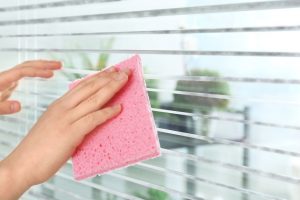 Deep Cleaning
Venetian blinds that are often lightly cleaned do still require a deep clean, even though the blinds look clean there are some places in which cannot be reached during light cleaning. No matter what the reason, Venetian blinds may require a deep clean to make them look like new. To do this you should try the following;
Take the blind off from the window. 

Place the blinds in a tub full of water containing the correct cleaning solution. 

Leave the blinds to soak for some time so that the solution can remove all dirt from it. 

Then clean off by rinsing. 

Take it outdoors to dry in the sun naturally.
Bear in mind that this deep clean method is only suitable for non-wooden type of blinds, always check with your blind supplier to make sure the right procedure for deep cleaning your blinds if you are in doubt.
Here at Aquarius Interiors, we help you find the perfect blinds for your home, contact us today on 0116 366 0652 for your enquiry, our team is here to help.