Blinds are beautiful and simple window treatments that can bring value to the interior design of a room. So why is it hard to clean? Blinds are made up of small pieces that eventually attract dirt and dust over time. To maintain this type of window treatment often requires regular cleaning in addition to deep cleaning from time to time. Here are a few tips on how you can keep different kinds of blinds in tip top shape for your space.
Cleaning Different Kinds of Window Blinds
It is important to clean your blinds regularly for them to stay in pristine shape and avoid any accumulation of dirt, dust or stains in the future. This will also make sure that you are able to use your window treatment for a long time. Every now and then, deep cleaning is also recommended to help remove stubborn stains and any dirt that you may have missed. Check out the cleaning tips below for your blinds.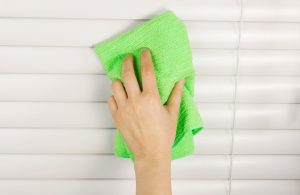 Cleaning Venetian Blinds
Regularly cleaning your Venetian blind is quite easy. You can do this with the following:
Soft feather duster mitt or glove – close the slats, and start wiping from the middle to the edge. Once each slat is done, open and close the blind to do the other side.
Vacuum with an upholstery attachment – make sure that your vacuum is set to the lowest setting and has an upholstery attachment to avoid scratching and pulling your blinds out of shape. Gently run the vacuum from top to bottom, then do the opposite side.
Deep cleaning for your Venetian blind must be done, especially when there are stains that cannot be removed with your regular cleaning. When deep cleaning, seek an outdoor space where you can lay your blind on a groundsheet or cloth, use warm water with non synthetic detergent, and use a non-abrasive cloth to clean each slat. Then rinse with cold water. You may have to repeat this process for stubborn stains. And finally, hang the blinds to dry.
Alternatively, if you don't have an outdoor space, you may clean the blinds in the bath. The same process as above can be followed. Though it may be a bit more difficult with the lack of space, this will ensure you remove any deep dirt in your blind.
Regular cleaning – open your blind fully, start wiping with a damp cloth from top to bottom. You could add a non-synthetic detergent to help remove stains in the blind.
Deep cleaning – extremely dirty roller blinds are difficult to clean, and immersing it in water is not recommended. Contact with water could cause rust and may detach the fabric from the tube. It is better to have a professional do the deep cleaning for roller blinds. Alternatively, if you have non-synthetic detergents for stain removal that will not corrode the blind, then you may proceed.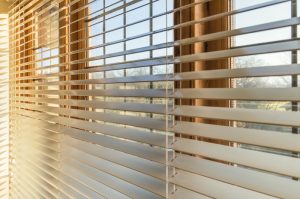 Regular cleaning – most vertical blinds are easy to clean regularly and is recommended to avoid accumulating hard to remove stains. First of all, check the material that your vertical blinds are made of, as this will help you to clean them properly. Most fabric vanes can be wiped down with a soft cloth, and lukewarm water with non-synthetic detergent to remove dust and stains. You will also need to clean the headrail of the blind by removing the vanes and wiping the head rails with a damp cloth.
Deep cleaning – as mentioned above, it is best to know what type of material your vertical blinds are made of. This is so when you need a deep cleaning for this type of blind, you can be certain whether it can be immersed in water, hand-washed, machine washed, or if a professional is needed to do the deep cleaning.
Cleaning Wooden Blinds
Regular cleaning – due to the coating finish of wood blinds, you can easily do regular cleaning by dusting with a feather duster or even a dry cloth. Just close the slats in one direction, wipe in a downward motion, and repeat on the other side.
Deep cleaning – it is important to remember that extreme dampness can warp your wood blind. This is why it is necessary to regularly clean your blind and avoid accumulating too much dirt. To deep clean your wood blind, you can use a damp cloth to wipe it down once in a while. Detergents however are not recommended for this type of blind.
We hope these tips help you to clean your blinds effectively, and increases their longevity. For more information on blinds in general, and if you are thinking about purchasing blinds, visit our contact page to use our contact form or call us.