Curtains are by far the most common and widely used type of window covering, nowadays. They are actually an integral part of every household and their various benefits account for their popularity. Our homes reflect our personality and you can emphasise your style through your home and décor. So, what are the 4 major benefits of using curtains in your own home?
Advantages of curtains
A lot of available options
Curtains come in a variety of different colours, styles, textures and fabrics. They can help you make your home more cosy and stylish by adding curtains, a room isn't complete until you have window dressings. Ideally, you could get some samples of different fabrics and colours to see what would look best in your home. For example, if you have a specific theme in your living room or bedroom, you could base your curtains on it, which will be easier to visualise by using samples. Curtains are a fashion piece and can completely change the feel of a room. If you are looking to update your décor, curtains can be the easiest way of changing up the look of your rooms.
Temperature and light control
A curtain is going to keep your house cooler during the hot summer days by blocking out the extra sunlight and warmth and keep the rooms warmer during the winter nights, as they will act as an added layer of shield between the interior of your home and the outside. They can also provide you with a means of controlling the amount of light that enters the spaces of your house. When you are watching TV or you are working on your laptop, it is usually preferable to reduce the amount of sunlight that can reach the screen.
Easy maintenance
Curtains are usually easy to maintain and durable. They will only require cleaning once in a while to ensure that any dust that has been gathered on their surface is properly removed. Curtains can easily be cleaned by using a washing machine or just with embracing the benefit of the steam cleaning, however it is wise to check the washing instructions before cleaning.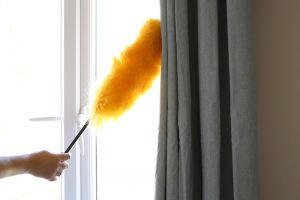 Increased security
Curtains can add an extra layer of security to your house against intruders or passers-by. Blackout curtains, in particular, can eliminate a stranger's ability to look into the room and that can deter any interest of them breaking in. This will make sure that prying eyes don't look into your home.  
They offer a variety of benefits that are both practical and aesthetically pleasing. They can transform your existing place into something more cosy and unique, while keeping the style and theme of your space intact, as well.
We hope that this blog has been informative if you have any questions please feel free to call us on 024 7771 7517 and speak with one of our friendly team alternatively head over to our contact page and fill in our online contact form and we will be in touch as soon as possible.