Blinds can make a great addition to your home As well as turning the window into a stylish feature of the room, they also help with privacy and keep draughts at bay in the colder months. When decorating or furnishing a room, it can be tricky to visualise what is going to work and pull the room together. Below we have compiled a list of how roman blinds can transform your home.
Why should I choose roman blinds for my windows?
Roman blinds are one of the most popular choices of blinds and that is because they bring so many benefits.
Small windows
Roman blinds are perfect for smaller sized windows. Small windows can look overcrowded and overwhelmed by a pair of big bulky curtains, but a roman blind will add a classy aspect to the window. A roman blind doesn't take up too much space, therefore you can add other decorative elements to the window if you wish to.
A minimalist look
Roman blinds are great for a minimalist look. They can give off a really clean feel, some blinds can look messy and make the window look cluttered.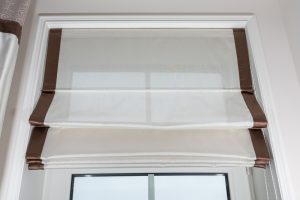 Windows above a radiator
If you have a window above a radiator, roman blinds can be the best choice. If you have long curtains that cover over the radiator the heat will sit between the radiator and curtains, losing out on heat. Whereas if you had a roman blind, you will be able to make the most of the heat and still have privacy at the same time.
Bold patterns
Because roman blinds are very simplistic, there isn't a fear of going over the top, there a numerous different designs and patterns to choose from. Roman blinds are also available in a lot of different fabrics including silk, velour, and various suede.  
Great for kitchen or bathroom
A roman blind is great for the kitchen or bathroom, because the blinds occasionally will get splashed. They are much easier to clean and will be more hygienic than any other types of blind or curtain, so they are great for people with allergies.
Ageless and versatile
Roman blinds are very adaptable they are great for all of the rooms in your home. Roman blinds have been around for years and as the years have gone by, roman blinds have gotten better and better. If you were considering these blinds in the bedroom, blackout blinds would be perfect as they would block out the light so you can rest.
We hope that our blog has been informative and helped you with seeing how roman blinds can transform your home. If you have any questions, please don't hesitate to give us a call on 024 777 17517 or alternately you can head over to our contact page to fill in our online enquiry form.