When it comes to window treatments, there are many factors to consider. One of the most important is the type of fabric you choose. In fact, you'll want to choose the right fabric for each room in your home. Why? Because different fabrics provide different levels of insulation, privacy, and durability in different environments. So, from getting a better night's sleep to controlling moisture and temperature in your home, the right fabric choice can make a big difference.
Best Fabrics For Curtains & Blinds in The Home
Not sure which fabric is right for your rooms? Here's a quick guide to help you choose the best fabric for curtains and blinds:
Kitchen Blinds and Curtains: 
When choosing fabrics for curtains and blinds, it is important to consider the function of the room. In the kitchen, where there is often a lot of cooking and baking going on, it is important to choose fabrics that will not absorb heat or smoke, are durable enough to withstand spills and splatters, and are also easy to clean. This makes Linen and cotton excellent choices for kitchen curtains and blinds. It's also a big plus if they can be machine-washed and thrown in the dryer on a low setting is also important.
Bathroom Blinds and Curtains: 
In the bathroom, you'll want to choose fabrics that can withstand moisture and humidity. This means choosing materials like polyester or vinyl that won't mildew or rot. Blinds made of these materials are also easy to clean, which is important in a room where hygiene is a top priority. Typically roller blinds are used in most bathrooms.
Bedroom Blinds and Curtains: 
In the bedroom, you'll want to choose fabrics that are soft and insulating. This will help you get a good night's sleep by blocking out light and noise. Thick fabrics like velvet or blackout curtains are great choices for the bedroom. If you're looking for something a little lighter, cotton is also a good option.
Living Room Blinds and Curtains: 
The living room is often the most public space in the home, so you'll want to choose curtains and blinds that are both stylish and functional. Lightweight fabrics like sheer cotton or linen let in natural light while still providing privacy. If you generally prefer to stay cool, blackout curtains can help keep your living room cool and comfortable. Or, if opulence is what you're after, why not opt for silk? This luxurious fabric can add a touch of sophistication to any space.
Now that you know a little more about the different types of fabrics available, you can start shopping for curtains and blinds that will suit your needs. Just remember to take into account the function of each room when making your selections. With a little bit of planning, you can find the perfect window treatments for your home.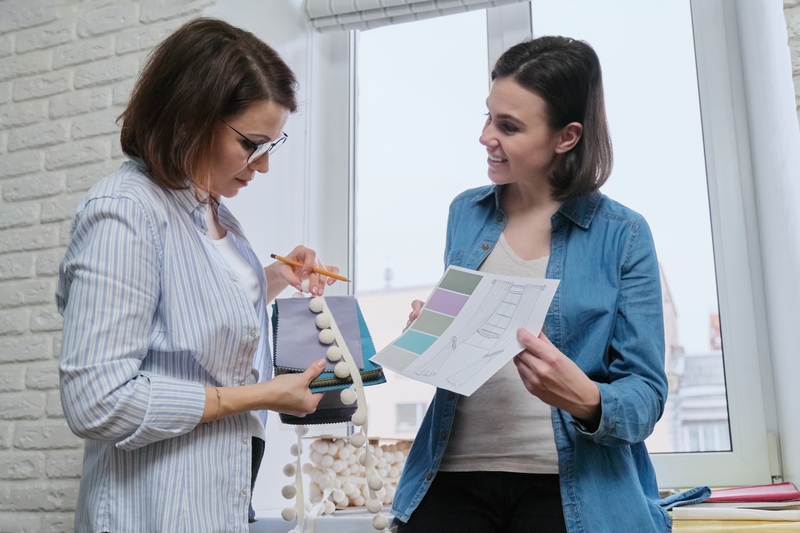 At Aquarius Interiors, we offer a wide range of fabrics for curtains and blinds. Simply browse our website to find out about the wide range of window coverings we offer, or contact us today to discuss your specific needs. We're always happy to help!