Ec0-friendly paint is a great way of ensuing your home remains environmentally friendly and protects you from other harmful chemicals that are often found in regular paints. Paint typically has a high plastic content and contains lots of chemicals called VOCs (Volatile Organic Compounds). These chemicals move from the paints and into the air causing nausea, respiratory issues, and lethargy. The chemicals in the air could damage our lungs and, for people who have respiratory issues, painting could actually be dangerous. In the UK, the amount of VOCs in a tin of paint is strictly regulated.
The plastic content in standard paint could also damage your walls eventually, costing more money in repairs and plastering. 
Eco-friendly paint solves these issues for you. 
They contain fewer chemicals so they're better for our health and for the environment and they're usually made using much more environmentally friendly methods. Because of the lower plastic content, they are often much better for our walls too. Water-based paint is one of the most used eco-friendly paints as it uses water rather than chemicals. This removes the odour and makes it biodegradable too. 
But you should be careful when using eco-friendly paints. Just because they're eco-friendly, doesn't always mean that they are totally safe. Turpentine, for example, is made wholly of natural ingredients, but it's still not good for us.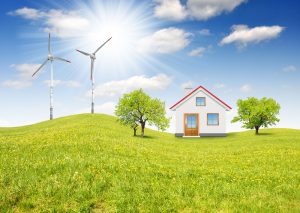 Why Are Eco-Friendly Paints Important?
Finding the best eco-friendly paint is important because it does what it says on the tin – benefits the environment. The chemical levels in eco-friendly paint are much lower and they're often made of natural ingredients. This means that the environment doesn't suffer a lot of damage in the manufacturing process and fewer chemicals are released into the atmosphere when you're painting. 
This is also great for your health. That lightheaded feeling that you get when you've been around paint for a long time means that the chemicals are affecting your ability to breathe properly and are having a negative effect on your lungs. Eco-friendly paints are mostly water-based. This eliminates the chemicals that make you feel ill. 
Sometimes, eco-friendly paint can even be good for your home. The lack of chemicals means that your plaster isn't affected, so your walls will remain in good condition for longer. The ingredients in the paint can even help to reduce mould too. 
Our Range of Farrow and Ball Eco-Friendly Paints
At Aquarius Interiors, we stock some of the very best eco-friendly paint. Farrow and Ball eco-friendly paint has one of the lowest VOC levels of any paint, making it odour free and non-toxic. The water-based paint comes in any colour imaginable, to give your home a brand new look, without the costs to your health, home, or environment. 
If you'd like to invest in the safest eco-friendly paints from Farrow and Ball Rugby, contact us today for more information, helpful advice, and support.