Let's face it, blinds are a great addition to any kitchen. They look great in office kitchens and they look especially good in our homes as well. No matter what room they're installed in, window blinds always bring something extra special to your decor.
You might be thinking that some rooms aren't suitable for blinds. Kitchens or bathrooms do have their own unique set of challenges when finding blinds that look great. But, with a little thought, it's easy to do. Let's take a look at which blinds are best in the kitchen and which you might want to turn a 'blind' eye too.
Finding the Right Kitchen Blinds
There are lots of variety of styles, textures and fabrics when it comes to kitchen blinds. Everything from roller blinds, shutters, roman blinds and Venetian blinds can all be put in your kitchen, but some are much better choices than others.
Because of what happens in a kitchen, the increased humidity and moisture that occurs (whether it's from steam, smoke, sink splashes and any number of other liquids), means that your blinds have to be able to handle it (and more) to still look great. 
The moisture in the air is probably the first thing you should consider when choosing blinds for your kitchen. This may rule out both roman blinds and real wooden blinds. The latter can often warp and crack due to exposure.
Wooden Blinds
If you do prefer wooden blinds, then you can get blinds made from faux wood. This means that they look like wood but aren't. They will be made from recycled PVC, making them waterproof, which is great if you're looking to continue the style of the rest of your house into the kitchen.
Roller Blinds
While it's not the only option, many people go for roller blinds when choosing kitchen window coverings. Roller blinds, usually made from polyester or other PVC materials, are ideal. Not only are they easier to clean but they will also last longer and can come in a huge variety of styles.
Even if something should go wrong with them, they're very easy to replace. Also, when choosing the fabric, try and avoid lighter colours. They can show up even the smallest of stains and can be difficult for them to keep looking at their best, due to the splashes they will no-doubt endure.
Cleanliness and hygiene are important, but they aren't the only factors to consider when choosing kitchen blinds. If your kitchen window faces the street, then the level of privacy blinds offer is also key.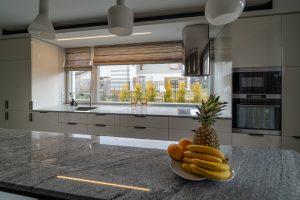 Vertical Blinds
Vertical blinds are great for this. Not only can they come in all sorts of colours, you can easily adjust the angle of them to ensure you still let in natural light, but also minimises what people can see of your home if they do get tempted and look in.
Kitchen blinds seem like the simplest of choices to make, but there is so much more to them than you might think. Finding the right blinds will not only make your kitchen look amazing, they need to be practical too. Balancing light, privacy, style and efficiency can be done easily with the right blinds.
Thank you for reading this month's blog. To find out more about which blinds are best for your kitchen, give us a call on 02477 717517 or please feel free to fill in the enquiry form on our contact page today.