We often look to redecorate our homes to keep up with the latest trends, the trouble is, these trends change so rapidly, how are we able to keep up?! Often, the easiest way to re-style a room can be as simple as changing your window dressings. Blinds can be incredibly easy to change, especially if you opt for roller blinds. You can match them to furniture and wallpaper, or leave them neutral to allow for maximum light within your home.
In 2020 and 2021 a lot of us are going stir crazy in our homes, with a large percentage of homeowners using the time as an opportunity to redecorate every room. In 2022 we are finally welcoming guests back into our homes and so it is imperative we have a beautiful space for friends and family to feel comfortable in. The biggest trend at the moment is the return of the 70's vibe; block colours are in! A large percentage of us have also gained a newfound love of the outdoors over the last few years so natural hues and neutral tones are back with a bang.
The best way to finalise any room decor is with a statement blind. They not only look great from the inside but can add welcoming curb appeal to your home as opposed to bare windows or net curtains. Blinds can offer privacy to a room while having additional benefits such as retaining the heat in the house, the possibility of blackout options to help aid a good night's sleep, and also offer some protection from noise pollution, all while giving a sleek, finished appearance.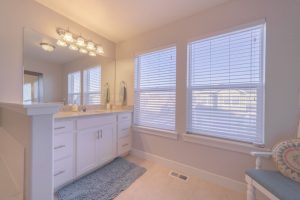 Roman Blinds
Roman blinds are a fantastic choice for anyone wanting to keep up with the latest trends on a budget. They are made from one sheet of pleated fabric, allowing them to fit around even the most awkwardly shaped window. This is one of the easiest blinds to make a statement with as they can be purchased in a wide range of colours and patterns, or made bespoke with your own choice of fabrics. 
Wooden Blinds
The beauty of wooden blinds is they will never go out of style! They naturally blend well with almost any decor and are super easy to keep clean. Wooden blinds can be heavy, so it is important that they are installed correctly to avoid any accidents.
Vibrant Colours
Vibrant colours will always make a statement in your home, and wonderfully colourful blinds, matched with a handful of interesting objects within a room can look sensational. The colour of 2022 is a wonderfully warm and inviting blue hue called 'Very Peri', alternatively green is everywhere this year, with jungle-themed interiors popping up in a lot of homeware stores.
Sustainability
Many people are aware of their environmental footprint these days and are doing their bit to try and be as eco-friendly as possible. Consciously knowing what to look for when choosing blinds can help not only the environment but also your energy bills. If you decide to go for a fabric blind, look out for ones that have a thermal lining, they help provide insulation to your home which will reduce heat loss from your windows. This saves you money on energy bills while helping your home be kinder to the environment too.
Matching Colours With Interior Design
Matching blinds with our interiors is something that had been long forgotten until fairly recently. When we think of matching our window dressings to the carpet, wallpaper, or furniture, we can feel our imagination running back to what our grandparent's house looked like back in the 80s and 90s, however, the style has come a long way since then and the muted designs of the present are a much more stylish trend. This is a style that can so quickly become 'too much', however, if done correctly it can be incredible!